How to Improve your Customer Experience with Extended Warranties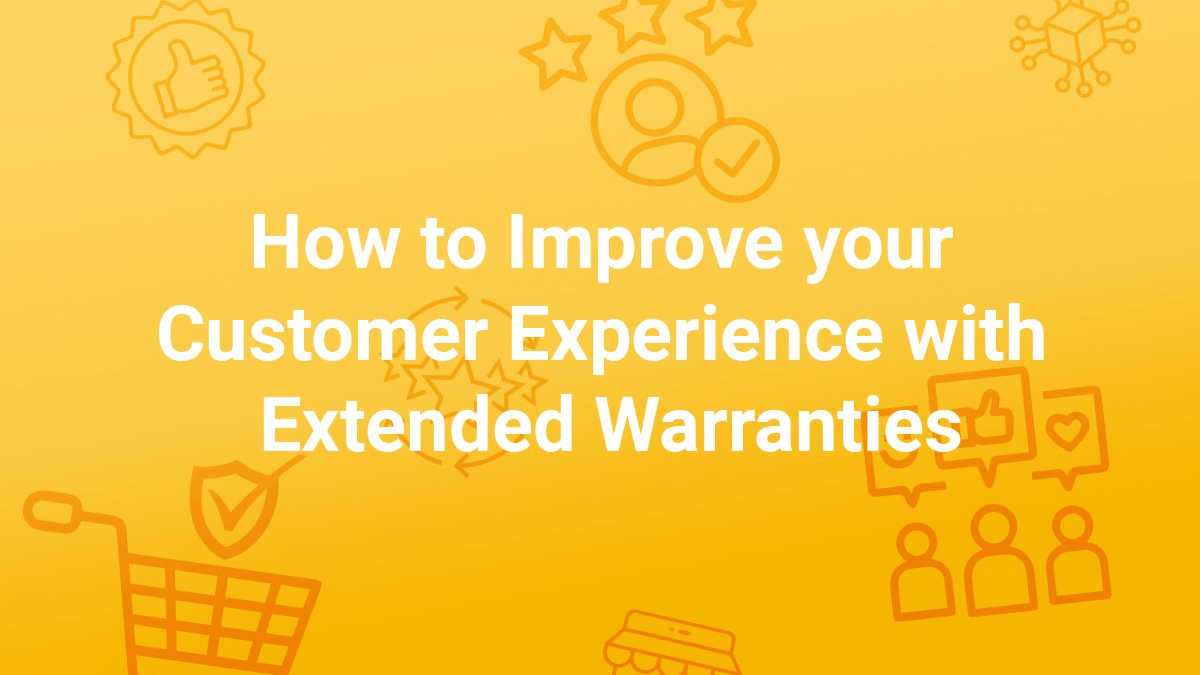 Offering extended warranties can be a valuable tool for e-commerce merchants in Singapore to improve their customer experience. Here are 5 factors that will make your extended warranty program stand out:
Clear and transparent communication
Customer education
Fully digital experience
Prompt and efficient claims processing
Fair pricing
1. Clear and transparent communication
When selling extended warranties, it is important to clearly communicate the terms and conditions to customers. Provide accurate information about what is covered and for how long, any limitations or exclusions, as well as the claims process. Avoid using confusing jargon and explain the coverage in simple terms. Transparency builds trust and ensures customers know exactly what they are getting. It also avoids potential disappointment during the claims process. Key points to address:
When does the coverage exactly start and end?
What is covered? For example, is accidental damage covered? What about normal wear & tear?
What is the coverage amount? How many claims can a customer make?
Will the faulty product be repaired or replaced? Who will take care of it?
Is there a deductible for 1:1 replacements?
Here's an example of how you can communicate in simple terms what is covered under an extended warranty: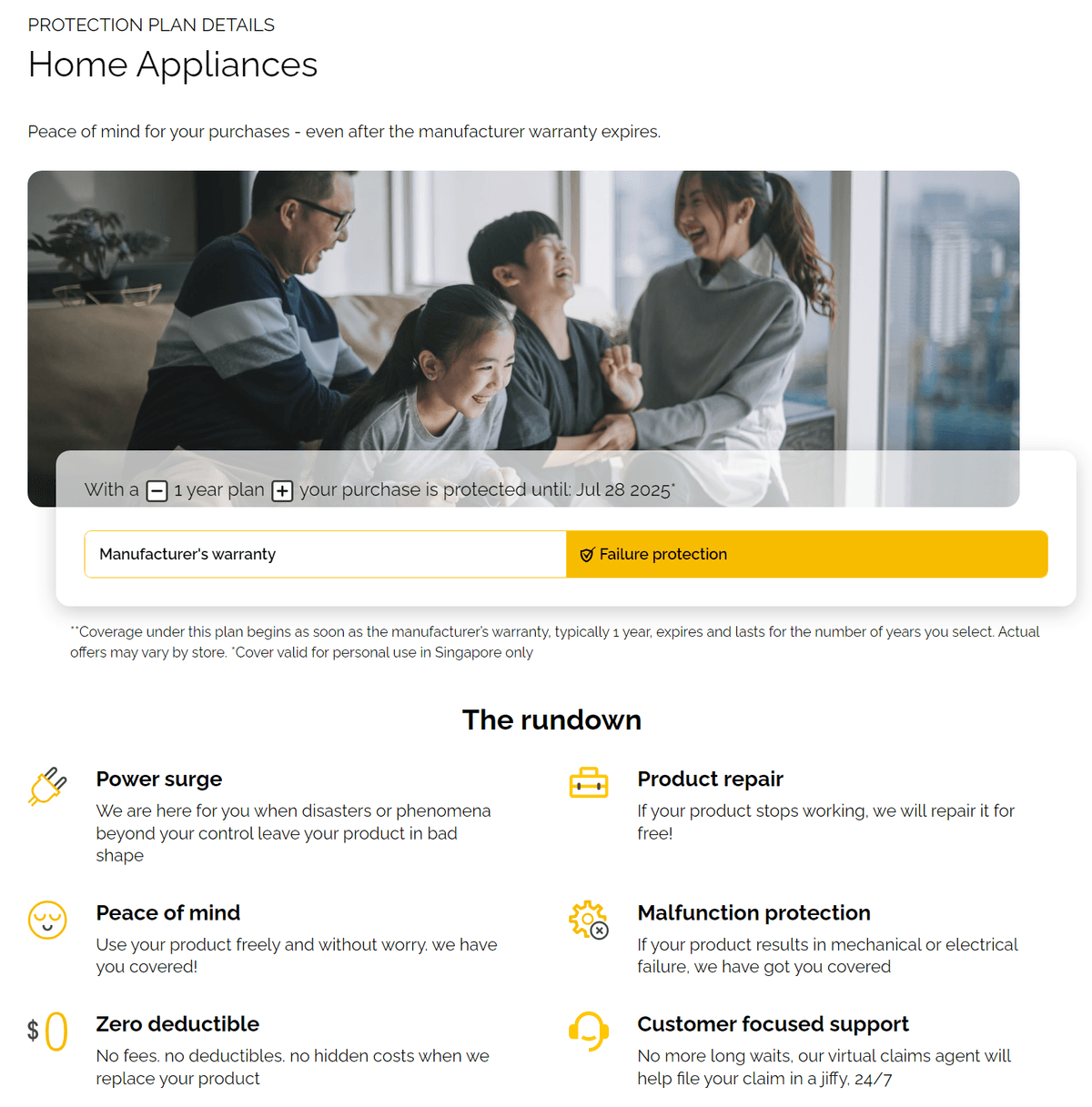 2. Customer education
Many customers do not fully understand the benefits of extended warranties According to a Pegasystems study, 52% of customers expressed confusion about extended warranties. Take the time to educate them about the peace of mind that an extended warranty can offer with the key benefit being protection against high and unforeseen repair cost in the future. Highlight examples where the warranty proves beneficial in terms of cost savings and hassle-free repairs. By providing this information, customers can make informed decisions and assess the value in purchasing an extended warranty. Below is an example of how you can illustrate the value proposition of an extended warranty in a simple way by highlighting the potential future cost of a product repair. The attractiveness of adding an extended warranty will heavily depend on how you price it. It's important that the price of the extended warranty is fair and in proportion to the risk of future product repair or replacement cost – and not excessively high.

3. Fully digital experience
Did you know that less than 10% of shoppers register their warranty? It is evident that today's shoppers prefer a paperless warranty experience – without the need to register it or dig up old paper receipts when filing a claim. There are still major retailers who require the original paper receipt as proof for the extended warranty. In reality, many shoppers will throw away or lose their receipts over time, which means they will lose their extended warranty proof.
We recommend providing customers with an email that summarizes all info related to their extended warranty, so that they can keep track of their coverage and have proof at any time. Even better, if customers can directly file an online claim, instead of having to call a busy customer hotline with long waiting times.
Below is an example of an automatically generated confirmation email summarizing all extended warranty information for customers. Note that it includes a link to an online chat where a customer can easily make a claim within minutes.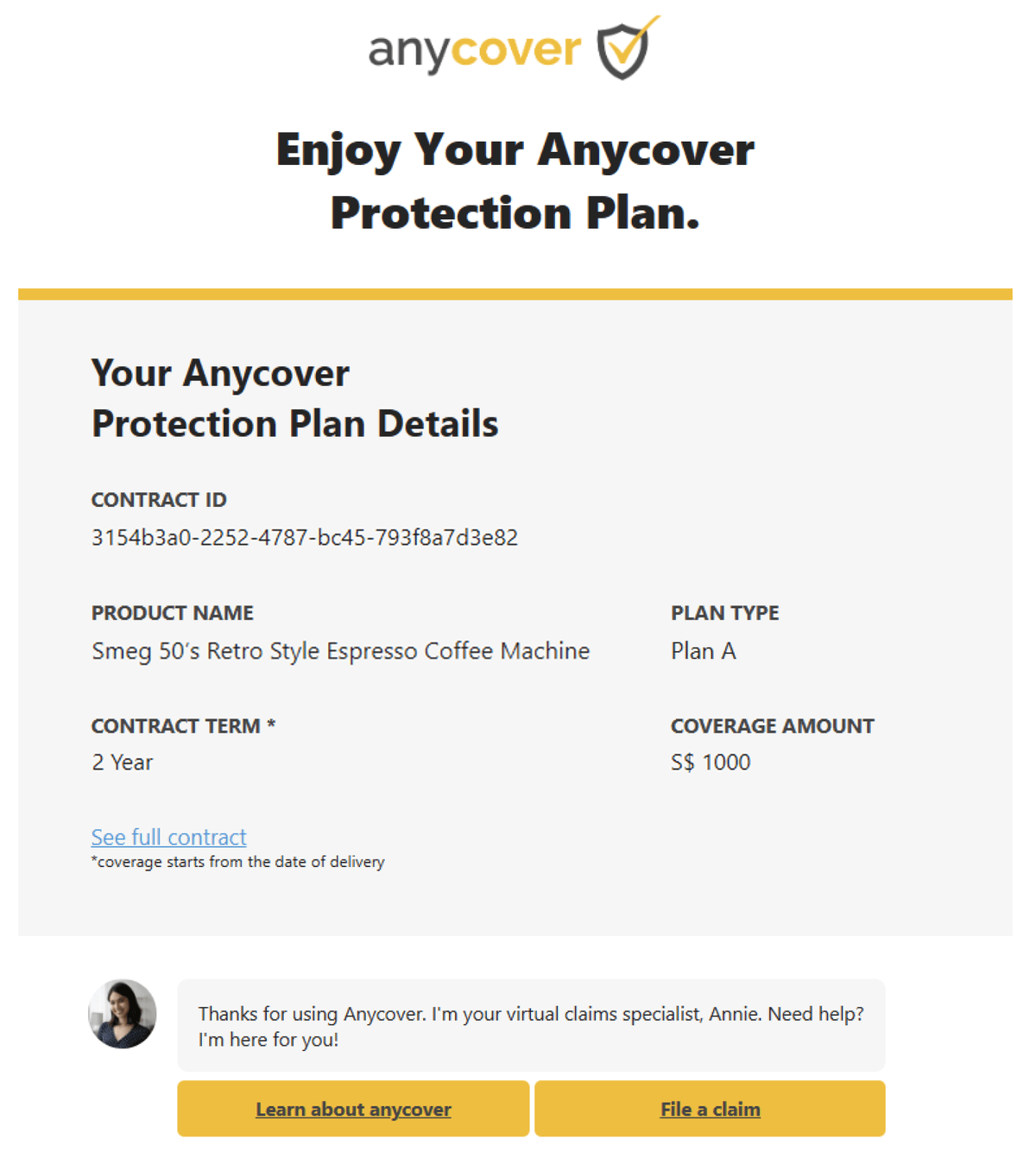 4. Prompt and efficient claims processing
Did you know that 81% of shoppers are more likely to buy again after a positive claims experience? Make the process for filing warranty claims as seamless and convenient as possible. Offer multiple channels for customers to submit their claims, such as an online chat or a dedicated customer service hotline. Streamline the claims process, minimize paperwork, and provide clear instructions on what documents are required to make a claim. The easier it is for customers to access and utilize their extended warranty, the more satisfied they will be with their experience.
It is important to remember that customers filing claims are often at a point of frustration. Maybe the air-conditioner they used on a daily basis has unexpectedly stopped working or maybe they've spilled water on their digital lock. To provide customers with the best possible experience during claim submissions, it is crucial to balance speed and empathy. This involves streamlining the claims process, making it intuitive, and avoiding lengthy and open-ended questions. Additionally, promptly approving valid claims is important, while ensuring that no claims are outright rejected without offering customers the opportunity to share their situation. Finally, ensure that there is a repair center or technicians available to handle warranty repairs. Prioritize fast turnaround times and keep customers informed about the progress of their repair. If possible, offer options for expedited repairs or temporary replacements to minimize inconvenience for customers. Below is an excerpt of how Anycover's dedicated 24/7 virtual chatbot allows customers to file a claim fully digital and within minutes.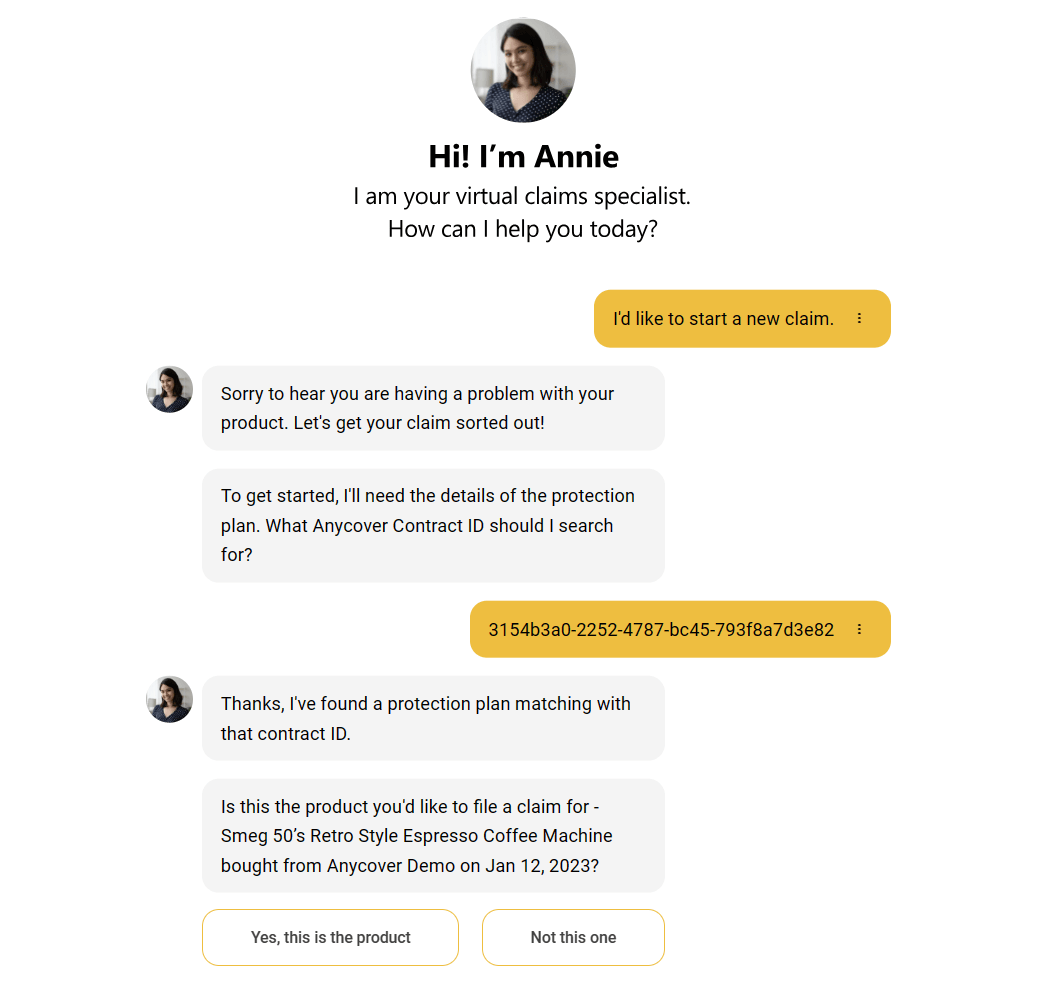 5. Fair pricing
One of the main reasons for customers to not purchase an extended warranty is the price. Unfortunately, large retailers often charge an excessively high price for extended warranties, so customers often don't perceive them as a fair offer – right so!
While the price will depend on several factors, such as the product category, the product price, the coverage, the coverage period, and location, there are price ranges that you can generally stick to. In our experience, using consumer electronics or household appliances as example, a 1-year extended warranty in Singapore without accidental damage protection should typically not exceed 10%-12% of the product price, while a 2-year plan should not exceed 13%-15% and a 3-year plan should not exceed 15%-18%. Anycover uses thousands of data points and a smart pricing engine to dynamically optimize the extended warranty pricings, keeping prices fair for consumers, while maximizing results for merchants, creating a win-win. In the below example, you can see how Anycover prices the extended warranty on a wireless Bluetooth speaker for different periods: 9% (1-year), 13% (2-year), 17% (3-year).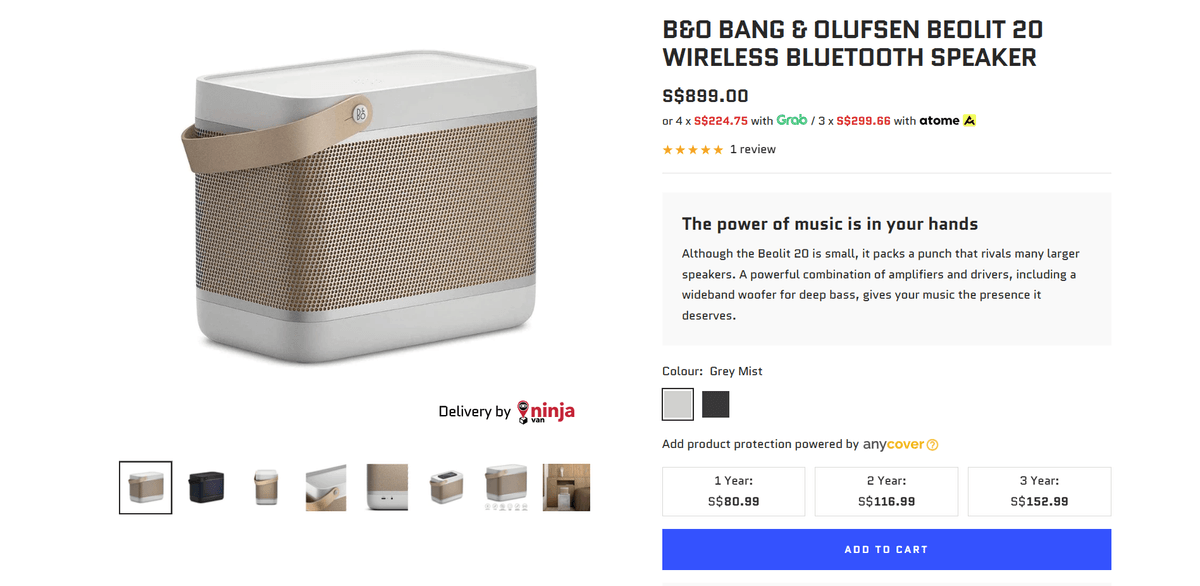 Give a Boost to Sales, Conversions, and Overall Customer Experience with Anycover
Extended warranties and protection plans provide value for merchants and customers alike. Enabling Anycover allows any merchant to take advantage of higher purchase conversions, increased profits, and greater customer loyalty.
To learn more about Anycover product protection and how it can help your eCommerce store scale to new heights, click here to book a demo
About Anycover
anycover is a Singapore-based insurtech startup that enables online merchants to launch and manage their own extended warranty program through a plug-and-play API solution without having to build it from scratch. It has partnered with leading insurers to facilitate and streamline the underwriting process for merchants.

Launched in 2021, anycover reinvents the traditional extended warranty industry by eliminating many of the issues customers face with legacy providers, boosting customer confidence and retention. anycover's solution is available for online merchants and retailers across multiple industries such as electronics, appliances, furniture, sports & fitness, jewellery, bags & luggage, optics and more.