6 Ways to Increase E-Commerce Conversion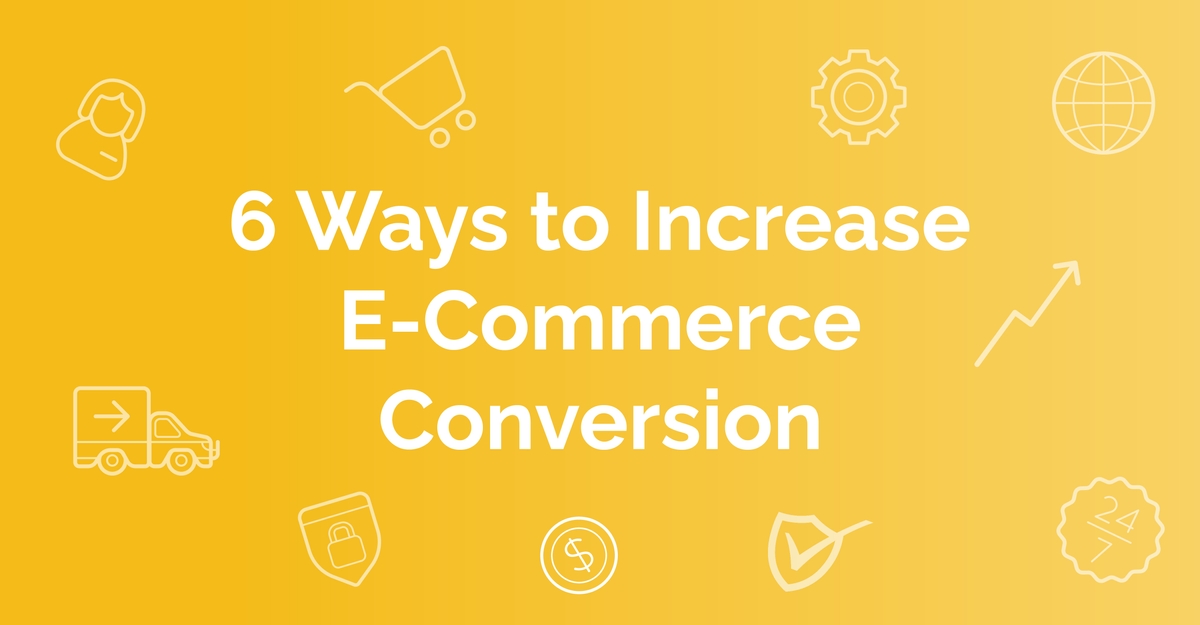 What is an E-Commerce Conversion Rate?
E-Commerce conversion rate refers to the conversion rate of orders on an online store, calculated by the following formula:
E-Commerce conversion rate = purchase orders/visits to your online store
So if you have 100 visits to your site, and there's an order in 3 of those visits, your e-commerce conversion rate is (3 / 100) = 3%.
Note that the conversion rate is calculated using sessions (visits), not users. A user may visit your store a few times before making a purchase. If you measure the conversion rate using users, the rate will be inflated and will not present a correct figure.
How is E-Commerce Conversion Rate Measured?
E-Commerce conversion rates can be measured by various analytics tools, which provide a code snippet for you to add to your site. This snippet tracks when a session starts and when a purchase order occurs. The right analytics tool depends on your budget, customer acquisition channels, and ad spending (if you spend more across different channels, you may require a more complex tool).
Here are some of the most common tools:
What is the Average E-Commerce Conversion Rate?
According to BigCommerce, average conversion rates are around 2.5%-3%, meaning that out of 100 visits, 2.5%-3% will result in a purchase order, while 97-97.5 visits will not result in an order.
It is useful to benchmark your conversion rate against the overall average to understand your performance. But don't get too caught up on the universal truth of the average conversion rate – it depends on a lot of factors and a higher rate doesn't always mean better. Below are some factors that will affect how you should benchmark your e-commerce conversion rate:
Price point: Inexpensive products driven by impulse purchase decisions typically have higher conversion rates than expensive ones that require more consideration.

Acquisition channels: Existing customers or social media followers that come to your store typically have higher conversion rates than new customers that come to your store through social media ads or blog posts.

Product category: Specific product categories are more geared towards offline purchases as customers have a higher desire to experience the product in-person before making a purchase. Examples are fragrances, furniture, or audio equipment.
How to Increase E-Commerce Conversion Rate?
While there is no one-size fits all approach, there are 6 proven ways that any merchant can do to grow their conversion rate:
Have a Mobile-First Strategy
Ensure Your Pages Load Fast
Have a Quick Checkout Process
Offer Value-Added Services
Create a Personalised Shopping Experience
Recover Abandoned Carts
Have a Mobile-First Strategy
Optimising your store for mobile devices is essential in today's mobile-first world. 70%-75% of SEA e-commerce traffic comes from mobile users. Ensuring your site is fast, easy to navigate, and provides a great user experience on mobile is critical. Additionally, consider using mobile-specific features like push notifications to increase engagement and drive conversions.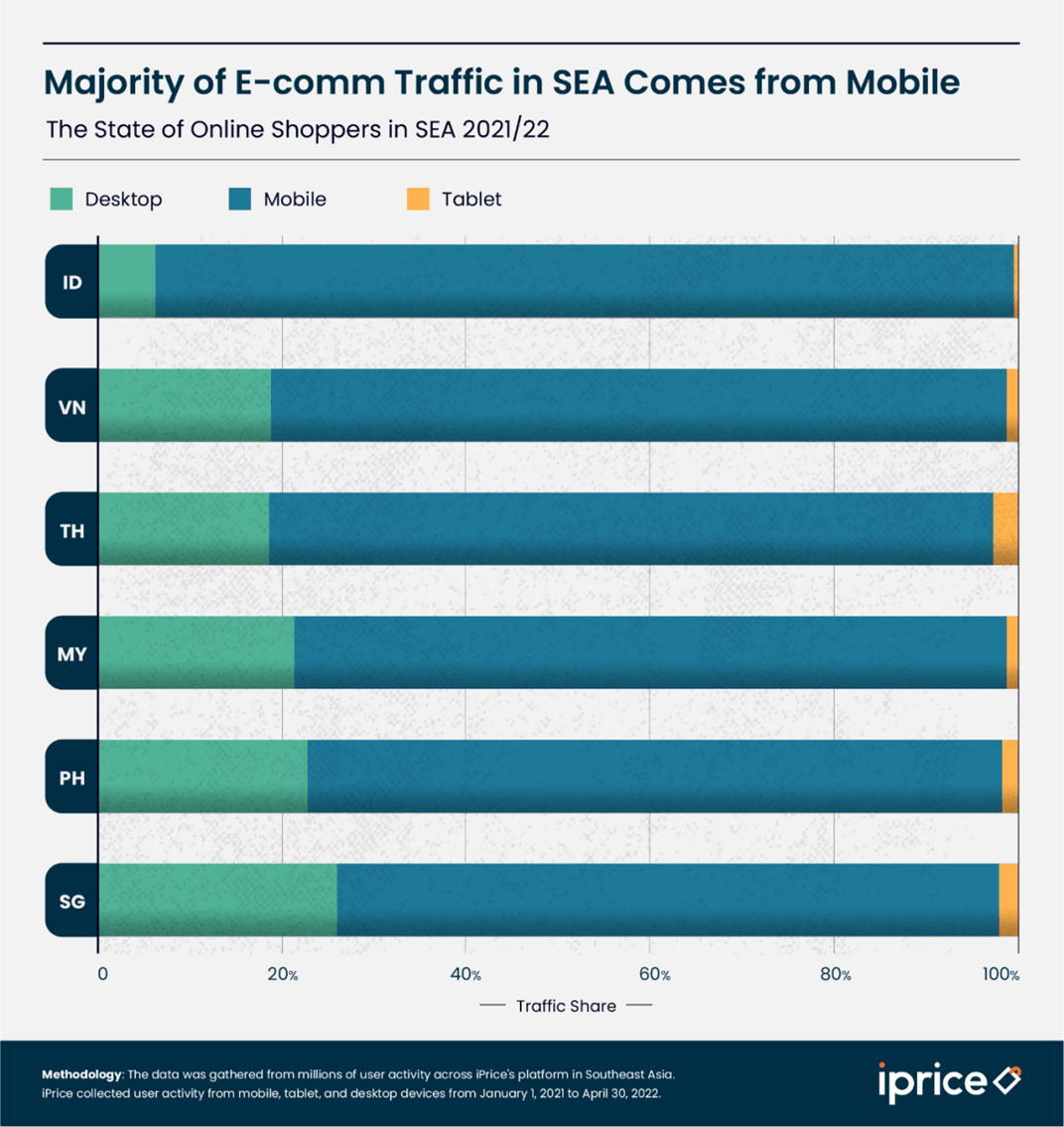 Your goal should be to have a mobile site with an intuitive user experience, streamlined checkout, and mobile-friendly payment options (e.g., Apple Pay, Google Pay, or Paypal), with a simple page design that makes the mobile browsing experience delightful. A good starting point is to optimise mobile navigation by doing the following:
Optimise your content-to-chrome ratio
Organise your navigation elements
Use big touch targets for navigation
Add shortcuts for mobile users
You can find a handy guide by SiteTuners here.
Ensure Your Pages Load Fast
Imagine buying a product from an online store. How would you feel if the product page took too long to load? It's annoying, right? As an online business owner, making sure your website loads fast and doesn't lag in diverting customers to other stores is crucial.
According to Portent, when pages load in 1 second, the average conversion rate is 3.05%. At a 2-second load time, the conversion rate already drops to 1.68%. At 3 seconds, the conversion rate begins to level off at 1.12% and reaches its lowest at a 4-second load time. A 2-second load time difference impacts your conversion rate by almost 2%!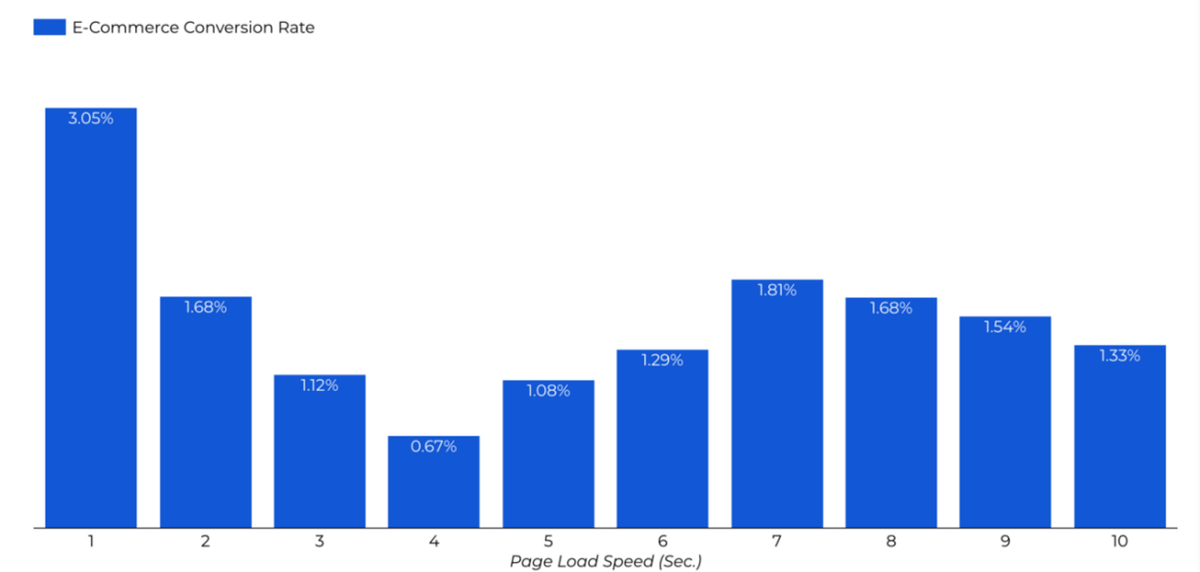 Your store should aim for a 1-2 second load time to deliver great conversion results. Shopify has published a comprehensive guide on how to improve your site performance and page speeds.
Have a Quick Checkout Process
It's the journey that matters. 34% of online shoppers abandon a purchase if it takes more than two minutes to complete the checkout process.
To overcome this, your business must ensure your customer can check out in the simplest way possible. Refer to the following to streamline the checkout process:
Reduce the number of forms to fill out, only asking your customers to fill out the mandatory details
A tick box to save their information and autofill to ensure future fluid checkouts
Increase your trustworthiness by having a certified badge on the product to gain customer confidence
Enabling one-tap checkouts with services like GPay or Apple Pay
It is all about the customer experience. An online business should take all necessary measures to ensure a smooth customer buying journey.
Offer Value-Added Services
In its most recent The Future of E-commerce 2022 report, Shopify reiterated its call to differentiate and diversify in order to succeed, as competing on price is no longer a feasible strategy. The report goes on to explain that more than half (52%) of shoppers are more likely to buy from a company that shares their values. While factors such as product offering and price point still matter, it becomes clear that today's shoppers demand a value-driven experience. Below are some best practices for value-added services:
Show Product Recommendations:

Online shopping can feel overwhelming for consumers at times. To ensure they have a helping hand while shopping, guide them with product recommendations. According to a Salesforce study, online shoppers clicking on product recommendations comprise just 7% of total site traffic but makeup 24% of orders and 26% of revenue. Interesting, right?

Singapore-based retailer METAPOD has integrated a "You May Also Like" feature in their store, recommending additional/complimentary products based on the product page a customer is visiting.

Find a detailed guide on how to engineer a powerful product recommendation engine here.

Add Easy Pickup and Returns

Consumers may be more likely to purchase if they know they can return it quickly if they're dissatisfied. This enables the customer to try out a product that's potentially new to them first and builds a trusting relationship with the brand.

One example is Aura Blender, which provides customers with a 30-day money-back guarantee, no questions asked, and doorstep pickup if the customer is unsatisfied with the product. Customer-centricity goes a long way.

Offer Product Protection

The quality of a product is a critical consideration for consumers, especially if it is a durable product that consumers plan to enjoy for as long as possible without any product issues in the form of product defects or failures. But for a shopper, it can be challenging to fully assess the quality of a product online, especially as trust in product reviews has dropped.

This is where offering product protection becomes a key signal for the consumer that the merchant is willing to stand behind the quality of the product – and not just for the manufacturer warranty period, which is often as short as six to 12 months, but for the entire expected lifetime of the product,

According to PYMNTS, nearly half of the shoppers (48%) say product protection offered by the merchant increases their likelihood to purchase as it increases trust in the product quality. Assurant estimates that offering product protection can increase shoppers intent to buy by about 25%. It's why the largest global retailers, like Apple, Courts and Harvey Norman, already offer modern product protection to boost conversion rates.

Stephen Ho, Founder of GameShop Asia, describes how offering product protection in partnership with Anycover has helped their business gain customer confidence and trust:

"It adds revenue to the business while adding value and a sense of comfort for our customers. Anycover follows through on their promises, which leads to greater customer satisfaction. It's easy to implement and lets the customer choose the solution that's right for them."
Recover abandoned carts
Adding a product to the cart shows a solid intent to purchase. But it may happen that customers abandon a cart after getting distracted.
This poses an opportunity for online businesses to retarget these "high-potential" customers by sending them emails / pop-up notifications to complete the order.
With customer browsing data and demographic information, you can create and send personalised email campaigns to turn abandoned carts into sales. On average, abandoned cart emails have an open rate of nearly 42% and a click rate of 9.5%.
If you're looking for some templates, check this out.
Give a Boost to Sales, Conversions, and Overall Customer Experience with Anycover
Extended warranties and protection plans provide value for merchants and customers alike. Enabling Anycover allows any merchant to take advantage of higher purchase conversions, increased profits, and greater customer loyalty. If you want to learn more about how your business can benefit: Get in touch with us today.
To learn more about Anycover product protection and how it can help your eCommerce store scale to new heights, click here to book a demo
About Anycover
anycover is a Singapore-based insurtech startup that enables online merchants to launch and manage their own extended warranty program through a plug-and-play API solution without having to build it from scratch. It has partnered with leading insurers to facilitate and streamline the underwriting process for merchants.

Launched in 2021, anycover reinvents the traditional extended warranty industry by eliminating many of the issues customers face with legacy providers, boosting customer confidence and retention. anycover's solution is available for online merchants and retailers across multiple industries such as electronics, appliances, furniture, sports & fitness, jewellery, bags & luggage, optics and more.