7 Ways To Maximize Success This Christmas Season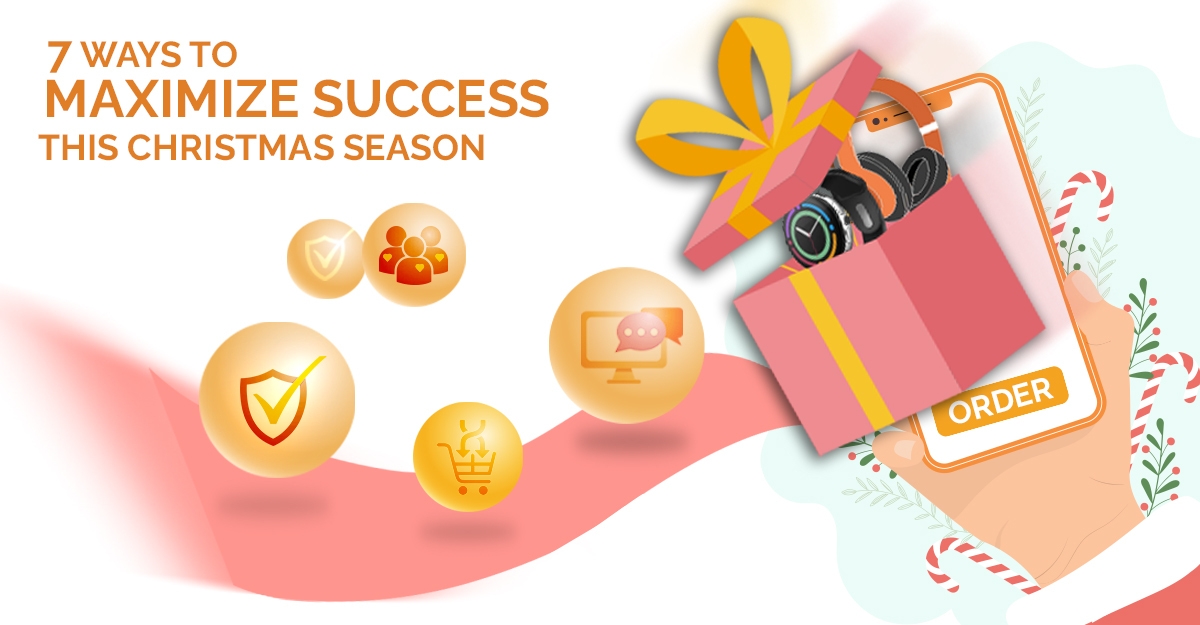 If you're an e-commerce merchant, you should consider the following expert recommendations to increase average order value, drive profitability, and improve the customer experience during Christmas season.
Test the entire customer journey on mobile
Ensure your pages load fast
Create a personalized shopping experience to cross-sell
Offer value-added services like product protection
Add live support with AI chat tools
Enrich your post-purchase experience
Recover abandoned carts
1. Test the entire customer journey on mobile
While five years ago, online shoppers were much more likely to buy online via their desktop computers than using their mobile, times have changed and so have consumer preferences. Today, mobile devices are the go-to choice for online shoppers across Southeast Asia. In Singapore, around 70%-75% of e-commerce traffic comes from mobile.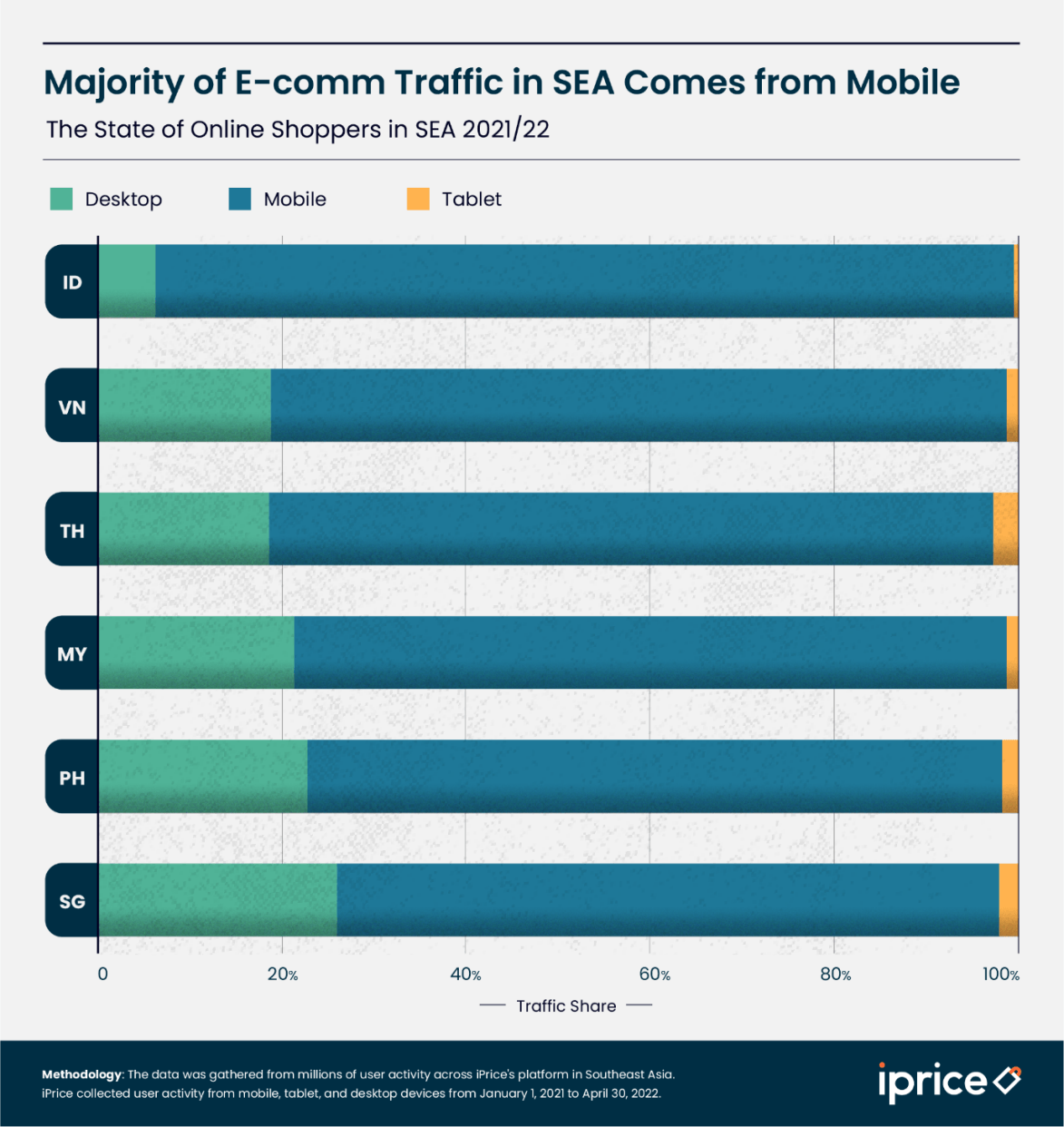 The ratio of mobile to desktop will, of course, depend on your target audience, but it is clear that you should test and optimize the entire mobile experience.
Your goal should be to have a mobile site with an intuitive user experience, streamlined checkout, and mobile-friendly payment options (e.g., Apple Pay, Google Pay, or Paypal), with simple page design that makes the mobile browsing experience delightful. A good starting point is to optimize mobile navigation by doing the following:
Optimize your content-to-chrome ratio
Organize your navigation elements
Use big touch targets for navigation
Add shortcuts for mobile users
You can find a handy guide by SiteTuners here.
2. Ensure your pages load fast
It's common knowledge that site speed impacts the user experience on your website. But how, exactly, and by how much? Does a slower website mean lost dollars?
Absolutely. Multiple studies have concluded that site speed impacts conversion rate and sales. Here's what customers expect, according to a study by Skilled.
79% of customers are "dissatisfied" with a site's performance and are less likely to buy from it
64% of mobile users expect a site to load in maximum four seconds
47% of online shoppers expect pages to load in maximum two seconds
According to Portent, when pages load in 1 second, the average conversion rate is 3.05%. At a 2-second load time, the conversion rate already drops to 1.68%. At 3 seconds, the conversion rate begins to level off at 1.12% and reaches its lowest at a 4-second load time. This means that a 2-second load time difference impacts your conversion rate by almost 2%!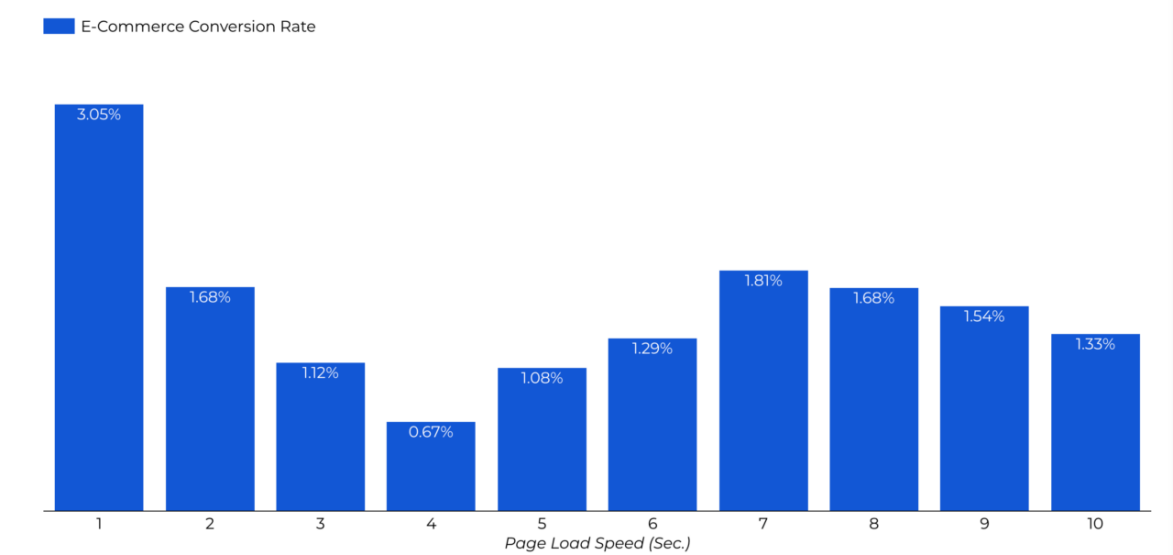 To improve conversion rates, aim for a 1-2 second load time.
Shopify has published a comprehensive overview with ways to improve your site performance and page speeds.
3. Create a personalized shopping experience to cross-sell
Today's online shoppers demand personalized experiences. With intense price competition across most categories, prioritize improving your average order value. One of the simplest ways to do that is through upselling and cross-selling. For example, recommend shoppers complementary products via e-commerce personalization.
Personalization programs have shown to yield 10%-15% higher conversion rates and 20% higher customer satisfaction rates – and customer satisfaction is particularly important since merchants that increase their retention by a mere 5% see profits increase by 25%+.
The most scalable e-commerce personalization tactics are:
Leverage intelligent product-detail page recommendations
Show continuous shopping for returning customers
Create personalized bestseller lists to drive click-throughs
Integrate user-generated content across your funnel
Retarget in-session based on behavioral triggers
Time social retargeting with smart recommendations
Automate three personalized messaging types
For further reading on personalization, refer to this extensive overview.
4. Offer value-added services like product protection
Value-added services are services that add value to the customer experience by meeting increasing customer expectations, boosting sales, and driving loyalty.
Product protection is just one of these services, but it stands apart as one that immediately boosts your margins. It drives profit at the transactional level, as merchants capture a portion of the protection plan sale going straight to their bottom line. On average, merchants get up to 40% of each plan sale.
In addition, there's a real impact on conversion rates – offering product protection reassures customers that a merchant is willing to stand behind the quality of its products and provides them with the needed customer confidence. Assurant found that offering product protection increases consumers' intent to buy by about 25%. This increased trust can create a loyal customer who knows a merchant made it a priority to support them when they need it the most – if something goes wrong.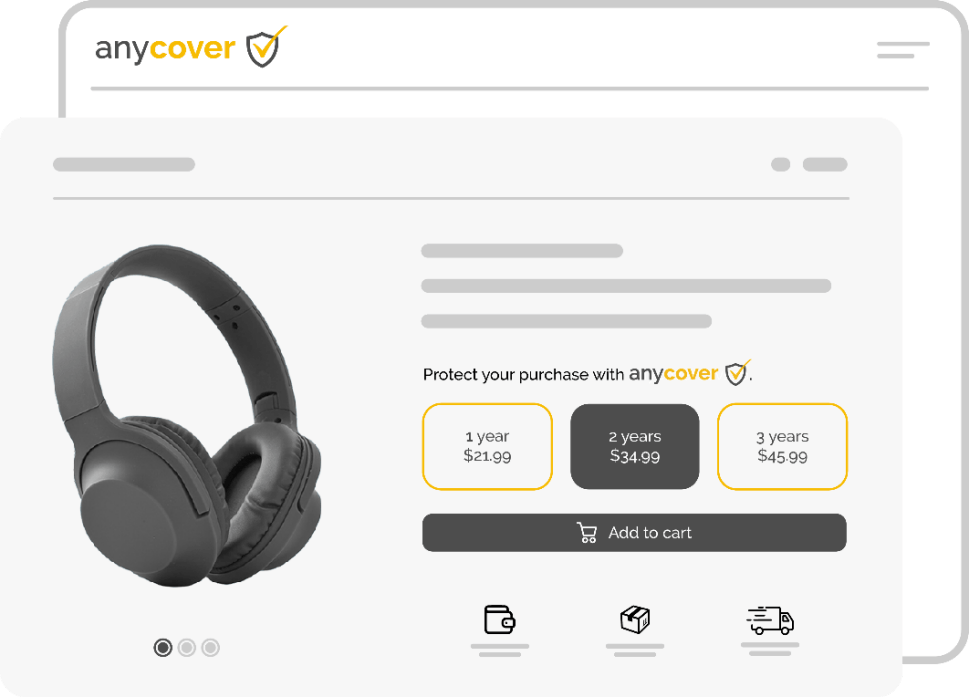 5. Add live support with AI chat tools
Shoppers make purchase decisions in minutes or even seconds. A prompt response from you could be the difference between making a sale and losing one. When a shopper has a question and can't find the answer right away, those questions can quickly turn into doubts, and they're more likely to hesitate before making a purchase. With chat tools such as Zendesk, LivePerson, and Intercom, your customers can receive real-time support specific to their needs, just like from an in-store sales assistant, and keep shopping confidently.
For example, an AI-powered chat tool can provide customers with personalized product recommendations based on automated questions, answer queries on the product itself, or inform them on delivery terms. This way, the number of requests to be handled by your support team can be drastically reduced. If needed, human support can complement the chat tool. Below is how home & living retailer IUIGA has integrated the Zendesk chat tool into their store.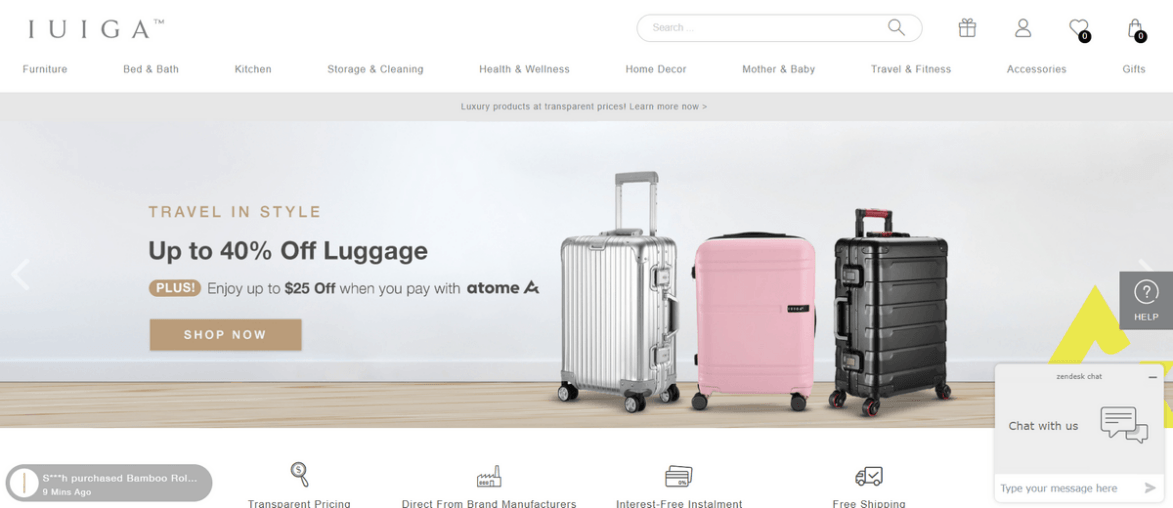 6. Enrich your post-purchase experience
One of the best and most underutilized ways to create loyal customers who come back is through the post-purchase experience. Too often, merchants focus only on the sale and ignore the post-purchase phase. But really, that's where the customer's experience is just getting started.
According to leading digital design consultancy R/GA, shoppers today feel an overwhelming amount of "buyer's remorse". 60% of customers today feel that if they had the opportunity to repurchase, they'd likely make a different choice. That's a lot of money left on the table for merchants. The general standard for customer experience has risen, and the proof points are everywhere, but a strange side effect of digital transformation is a functional flattening of the Internet. Today's easy website clicks are built using the same back-end tools, removing the texture and 'magic' from customer experiences – and rendering customer relationships completely automated and stripped of character.
Consider engaging with your customers more meaningful and keep in mind what they want after the purchase is made:
Interactive experiences to learn about the product and the category (82%)
Fast customer support and assistance in case of issues (96%)
Hearing about other products and services curated just for them (51%)
Personalized communications about things that matter to them (84%)
Live or digital brand community or events (72%)
Download the full report for more guidance on how to best engage customers in the post-purchase phase.
7. Recover abandoned carts
Adding an item to a shopping cart is a pretty strong intent signal. But research shows that buyers frequently get distracted and abandon their carts before converting, leading to an average e-commerce conversion rate of only 1.5%.
Don't give up on them – reignite their interest with abandoned cart emails. According to marketing agency Flowium, abandoned cart emails have an open rate of 41.2% and a click rate of 9.5%. With customer browsing data and demographic information, you can create and send personalized email campaigns to turn abandoned carts into sales.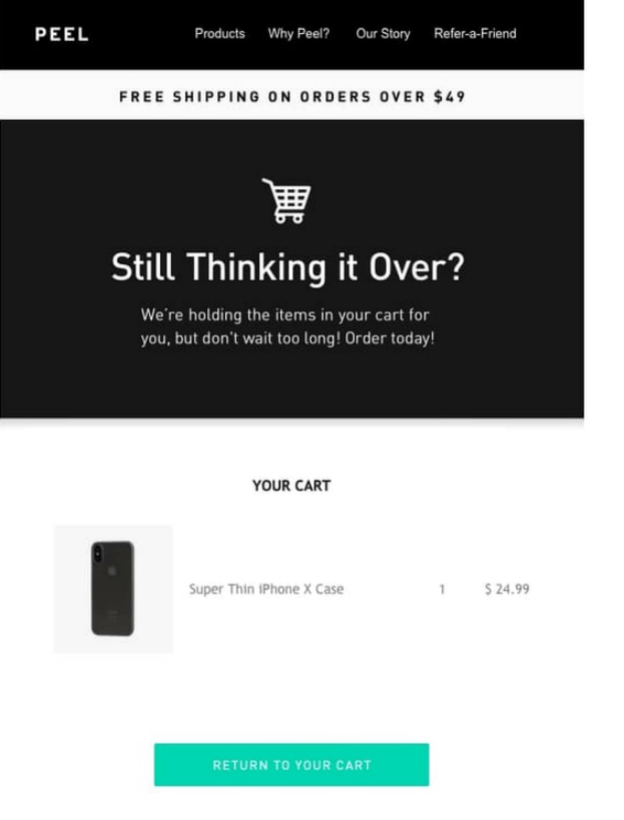 See some of the best abandoned cart email examples here.
Give a Boost to Sales, Conversions, and Overall Customer Experience with Anycover
Extended warranties and protection plans provide value for merchants and customers alike. Enabling Anycover allows any merchant to take advantage of increased profits, higher purchase conversions, and greater customer loyalty.
To learn more about Anycover product protection and how it can help your eCommerce store scale to new heights, click here to book a demo
About Anycover
anycover is a Singapore-based insurtech startup that enables online merchants to launch and manage their own extended warranty program through a plug-and-play API solution without having to build it from scratch. It has partnered with leading insurers to facilitate and streamline the underwriting process for merchants.

Launched in 2021, anycover reinvents the traditional extended warranty industry by eliminating many of the issues customers face with legacy providers, boosting customer confidence and retention. anycover's solution is available for online merchants and retailers across multiple industries such as electronics, appliances, furniture, sports & fitness, jewellery, bags & luggage, optics and more.