Why Offer Extended Warranties? What Apple Knows That You should, too…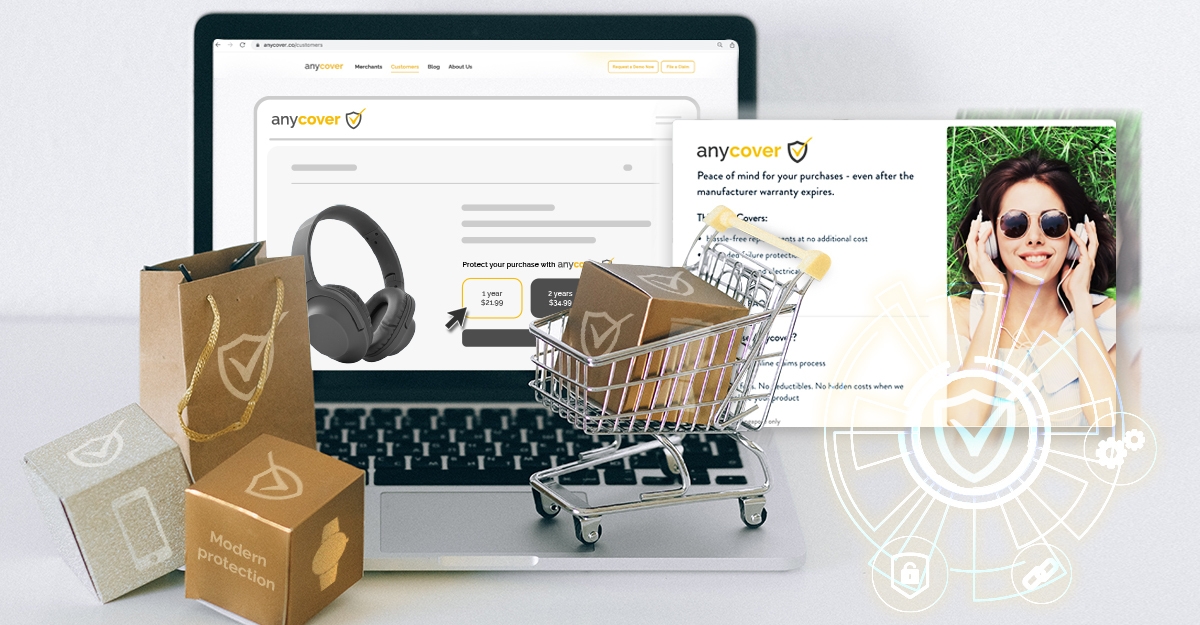 To level the playing field, merchants should offer extended warranties, which drive conversion, build customer loyalty, and increase profit margins
If you are in Singapore and recently purchased an iPhone, ipad, Mac, AppleWatch, or AirPods, chances are high that you have come across AppleCare+. Adding it to your purchase is simple. After moving a product to the cart, a small widget offers you to add on AppleCare+. In this case, a one-year extension of the one-year manufacturer warranty (i.e. to a total of two years) and repairs for accidental damage (e.g. accidentally dropping your AirPods or water damage caused by you) for a S$39 service fee each. The cost for AppleCare+ in this case is S$59 or 16.4% of the product price.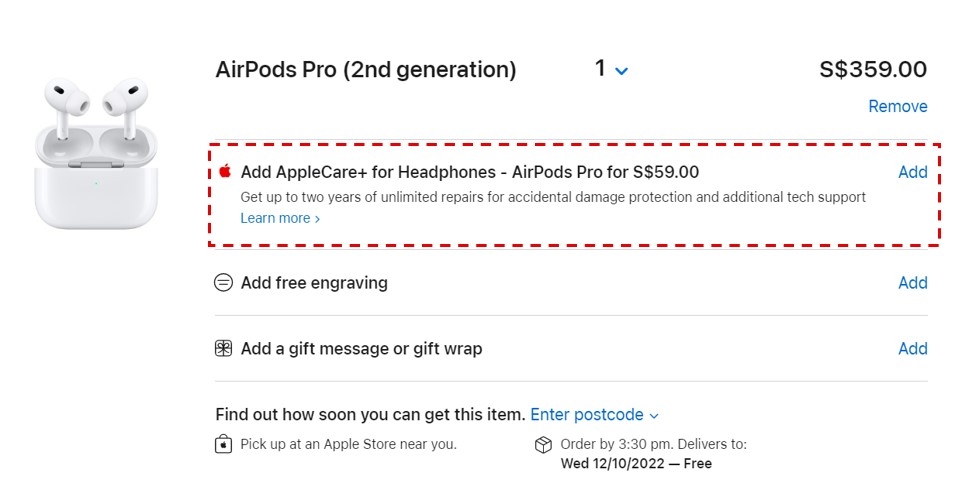 So how successful is AppleCare+ for Apple?
Apple doesn't break down its Services segment revenue, under which AppleCare+ operates, but it is estimated that AppleCare+ stands for around US$8.8bn+ in revenue. More important is that while the Services business only contributes around 18.7% to Apple's total revenue, it contributes around 31.2% to its gross margins. This is because it operates at considerably higher margins (69.7%) than the Products segment (35.3%).
Let's break down how much Apple earns from the above example. What some aren't aware of is that AppleCare+ is underwritten by an insurer, AIG, meaning that Apple doesn't take on any "risk" by selling extended warranties. Any costs related to future product repairs or replacements will be covered by AIG. For this, AIG charges a premium for each sale. Typically, AIG would calculate the premium by looking at historical claim rates and required cost to repair or replace a product. In simple terms, the premiums earned must be higher than the cost of the extended warranty program. Since AppleCare+ charges customers a S$39 fee for any accidental damage claims, the risk for AIG is reduced.
So the S$59 AppleCare+ sale is split into two parts: Apple's share and AIG's share. Considering typical claim rates and the S$39 deductible that is charged for accidental damage claims, it is estimated that Apple will receive around 60% of the S$59 (S$35.4) while AIG received 40% (S$23.6). This means that Apple is making an additional 10% margin on the AirPods, which flows directly to their bottom line. As Apple is also the authorized repairer, it will earn additional revenue when a product needs to be repaired or replaced.
Using the AppleCare+ example, let's look at the three main reasons the most successful merchants offer extended warranties in more detail.
Offering Extended Warranties Drives Additional Revenue at No Cost
The sale of extended warranties or protection plans gives merchants a new stream of revenue, which flows directly to their bottom line. There is no cost to offer extended warranty plans, and there are no fees to launch a program with Anycover. Merchants receive a cut of the extended warranty purchase price each time a customer adds one to their product purchase, and the merchant can further monetize the relationship with the customer throughout the extended warranty lifecycle.
For example, if a product has a mechanical or electrical failure, or is broken as a result of accidental damage, the customer files a claim. Once the claim is approved, the customer is sent back to the merchant's store to order a replacement product, and the merchant receives the retail price for the replacement product from Anycover. Even better is the fact that most customers, when ordering their free replacement, will opt to purchase another protection plan to cover the new item. After all, the protection plan is the reason they are getting the free replacement in the first place. And there is an opportunity for the customer to buy more products from the merchant when they get their replacement item.
When you factor in the no-cost revenue from warranty sales plus the potential for additional downstream revenue from the same customers, it's clear that offering extended warranties is one of the easiest and best ways for merchants to increase their profit.

Offering Extended Warranties Boosts Conversion Rates and Consumer Confidence
According to Littledata, the average conversion rate in e-commerce stores is around 1.5%. This is where offering product protection becomes a key signal for the consumer that the merchant is willing to stand behind the quality of the product – and not just for the manufacturer warranty period, which is often as short as 12 months, but for the entire expected lifetime of the product.
According to PYMNTS, nearly half of shoppers (48%) say product protection offered by the merchant increases their likelihood to purchase as it increases trust in the product quality. According to Assurant, offering product protection on average increase a shopper's intent to buy by about 25%. It's why the largest retailers, like Apple, Courts, or Harvey Norman, offer modern product protection to boost conversion rates. Or take a look at Amazon, the leading online retailer in the world. They offer extended warranties and protection plans across hundreds of thousands of products. They even offer a protection plan on a $49 backpack!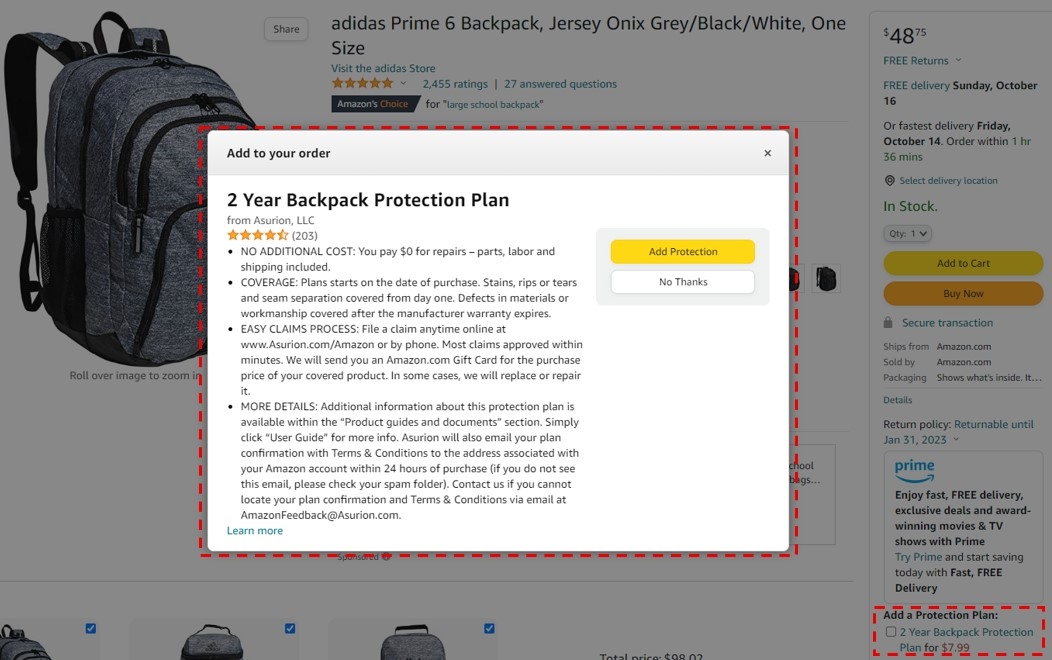 Offering Extended Warranties Creates Customer Loyalty and Peace of Peace Of Mind
When a customer buys a new product, they are excited and looking forward to using their purchase. If there is an issue with the product, whether a mechanical or electrical failure, it can be extremely frustrating.
Even more frustrating is when the issue is caused by an accident, which we all know happens! We have all had accidents and broken valuable possessions, and those with kids know that they drop things, spill on things, etc. No matter what the reason, if your customer's recent purchase isn't working, they want a solution fast.
This is where protection plans powered by Anycover turn a traditionally negative consumer experience into a very positive one that builds tremendous loyalty between your store and your customers. When the item breaks and your customer needs a replacement, they easily file a claim within minutes via the 24/7 online chat, rather than having to call a busy customer service hotline.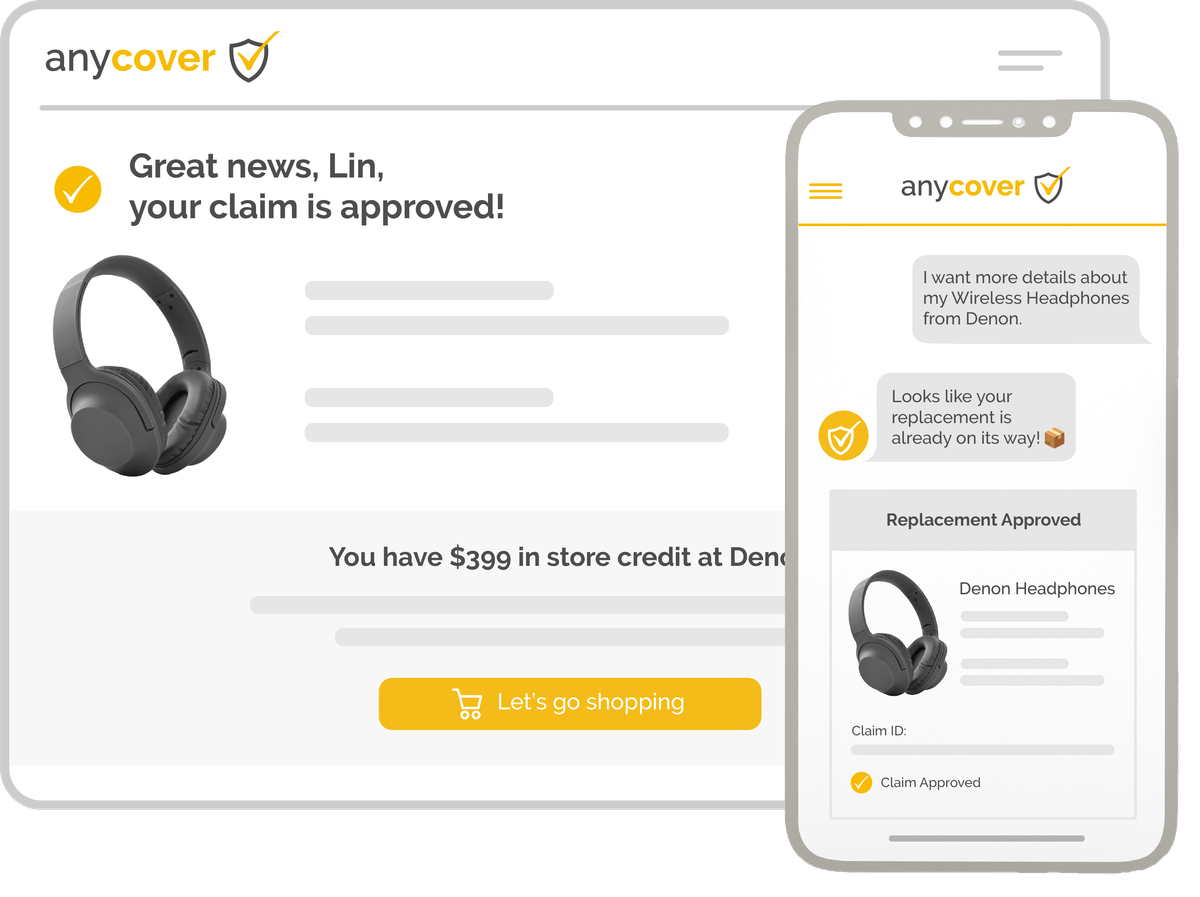 Once the claim is approved (usually same day), they get instant instructions on the repair process or get a link to get a free replacement directly from your store. The interaction is driven by Anycover's modern technology platform, and the customer experience is seamless and delightful. This reflects positively on the merchant, boosts loyalty, and drives increased sales in the future!
Give a Boost to Sales, Conversions, and Overall Customer Experience with Anycover
Extended warranties and protection plans provide value for merchants and customers alike. Enabling Anycover allows any merchant to take advantage of increased profits, higher purchase conversions, and greater customer loyalty.
To learn more about Anycover product protection and how it can help your eCommerce store scale to new heights, click here to book a demo
About Anycover
anycover is a Singapore-based insurtech startup that enables online merchants to launch and manage their own extended warranty program through a plug-and-play API solution without having to build it from scratch. It has partnered with leading insurers to facilitate and streamline the underwriting process for merchants.

Launched in 2021, anycover reinvents the traditional extended warranty industry by eliminating many of the issues customers face with legacy providers, boosting customer confidence and retention. anycover's solution is available for online merchants and retailers across multiple industries such as electronics, appliances, furniture, sports & fitness, jewellery, bags & luggage, optics and more.