7 Ways to Build Trust in E-Commerce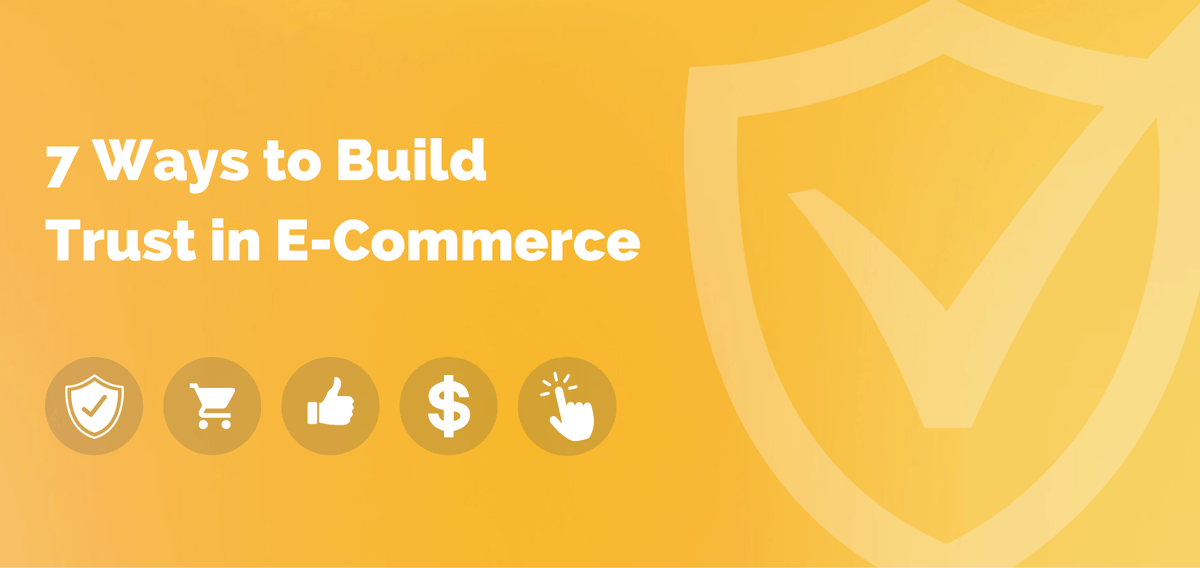 If you are running an e-commerce business, you have likely seen some significant changes since the pandemic. Since the pandemic, retailers across the world, including in Southeast Asia, have experienced massive disruption in their offline operations and acceleration of their digital channels.
In fact, 77% of Asia Pacific retailers experienced a surge in new customers through digital channels, and 76% observed the emergence of new customer journeys, according to an Adobe study. In total, 60M new consumers came online in the region, while existing digital users increased their frequency of use and spending. This is not a one-off phenomenon but here to stay.
As retail increasingly moves digital, the ability to build trust will become more critical than ever. This poses a problem for e-commerce retailers, particularly for those who haven't built sufficient brand recognition yet. If a visitor browses your site for the first time and deems it too risky, they won't become your customer. After all the marketing that went into getting visitors, that's the last thing you want.
Why is Customer Trust Critical in E-Commerce?
When you visit a brick-and-mortar store for the first time, there are various factors that build trust and make you feel comfortable shopping there. You can physically touch a product and assess the quality before you decide to purchase it. Employees are there to help you and address any of your questions. And you may see other customers shopping, indicating that others trust the store, too.
But the online shopping experience is different. You can't see the people running the store, you can't see other customers shopping there, and your interaction with the product is limited to written information and photos.
This lack of trust factors means there's much more uncertainty for customers when shopping online. Will the product quality be as promised? Are my payment and personal data safe? Will I receive spam emails? These are just a few questions customers ask themselves when they don't fully trust an e-commerce business.
What is the Effect of Customer Distrust?
With so many options available, customers are more selective and will simply leave an online store in favour of one they trust more. Customers never had as much choice as today – the pandemic has led to a sellers' boom as merchants are eager to join the e-commerce rocketship.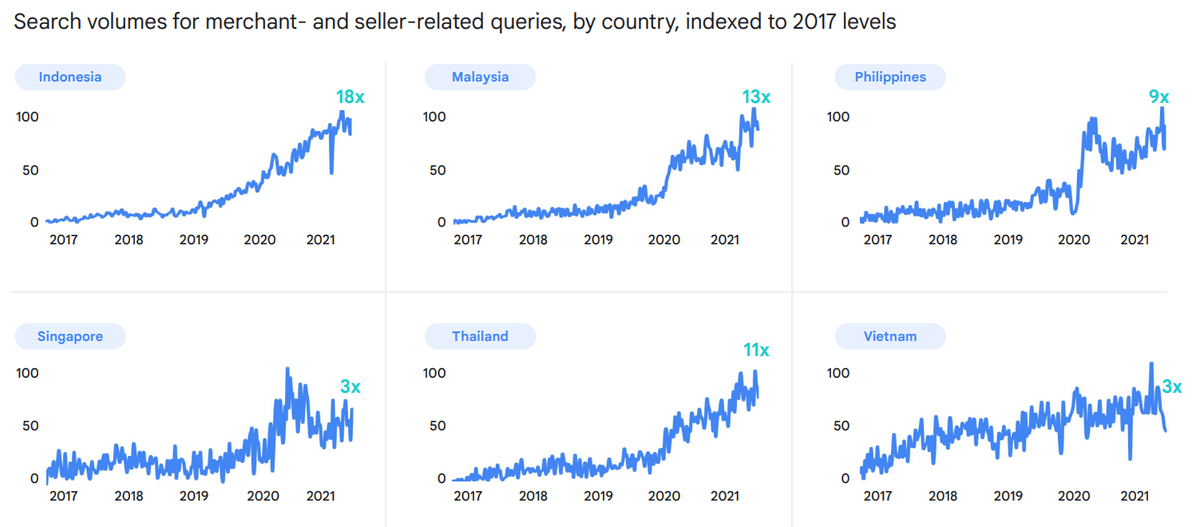 This is reflected in the current average cart abandonment rate of 71.7%, which means lower conversion rates and wasted efforts used to bring in visitors.
Proven Ways to Build Trust in E-Commerce
1. Offer live support with AI chat tools
Shoppers make purchase decisions in minutes or even seconds. A prompt response from you could be the difference between making a sale and losing one. When a shopper has a question and can't find the answer right away, those questions can quickly turn into doubts, and they're more likely to hesitate before making a purchase. With a chat tool such as Zendesk, LivePerson, and Intercom, your customers can receive real-time support specific to their needs, just like from an in-store sales assistant, and keep shopping confidently.
For example, an AI-powered chat tool can provide customers with personalized product recommendations based on automated questions, answer queries on the product itself, or inform on delivery terms. This way, the number of requests to be handled by your support team can be drastically reduced. If needed, human support can complement the chat tool. Below is how home & living retailer IUIGA has integrated the Zendesk chat tool into their store.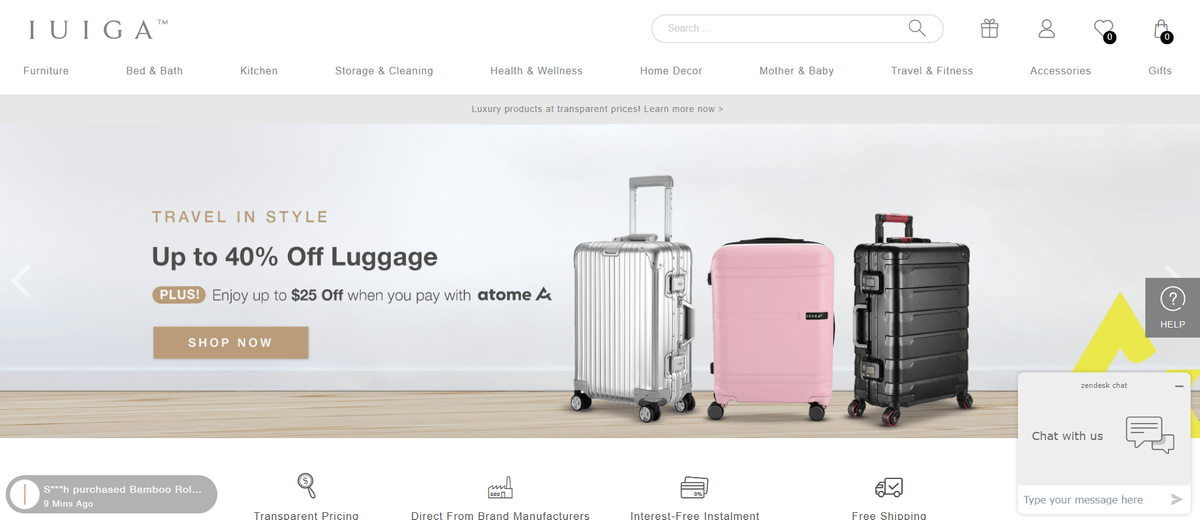 2. Have a transparent return policy that is easy to find
As customers can't physically inspect a product they buy online, their biggest fear is that their online purchase won't meet their expectations. Around 67% of online shoppers review the return policy before making a purchase. An intransparent or weak return policy leads to a poor customer experience and could result in negative feedback that damages your reputation.
To increase consumers' trust, offer a solid return policy and make sure it is easy to find. Embedding it into your FAQs or shipping policy page may create an extra step of work, so including your return policy in simple terms on several hard-to-miss places throughout your website, including the product page, may give customers a push to click the add to cart button. If you have a return policy in place, double-check that you got all the critical information:
Which items can be returned and which are non-returnable
Which items can be exchanged and for what (e.g. items with the same value)
Any time limits that apply (e.g. 30 days, 40 days, 60 days, etc.)
The condition in which items can be returned
How and where to return or exchange an item
Exceptions that may apply (e.g. special sale items)
Shopify provides some useful templates to craft and optimize your return policy. If you are using Shopify, you can use built-in features to manage returns and exchanges. You may also choose a third-party provider, such as Returnly or ReturnGo, for processing returns and exchanges. This will save you both money and time on fulfillment and operations. These third-party solutions have shown to reduce the rate of refunds by ~45%. If you are looking for an example of a well-crafted and transparent return policy, take a look at Decathlon.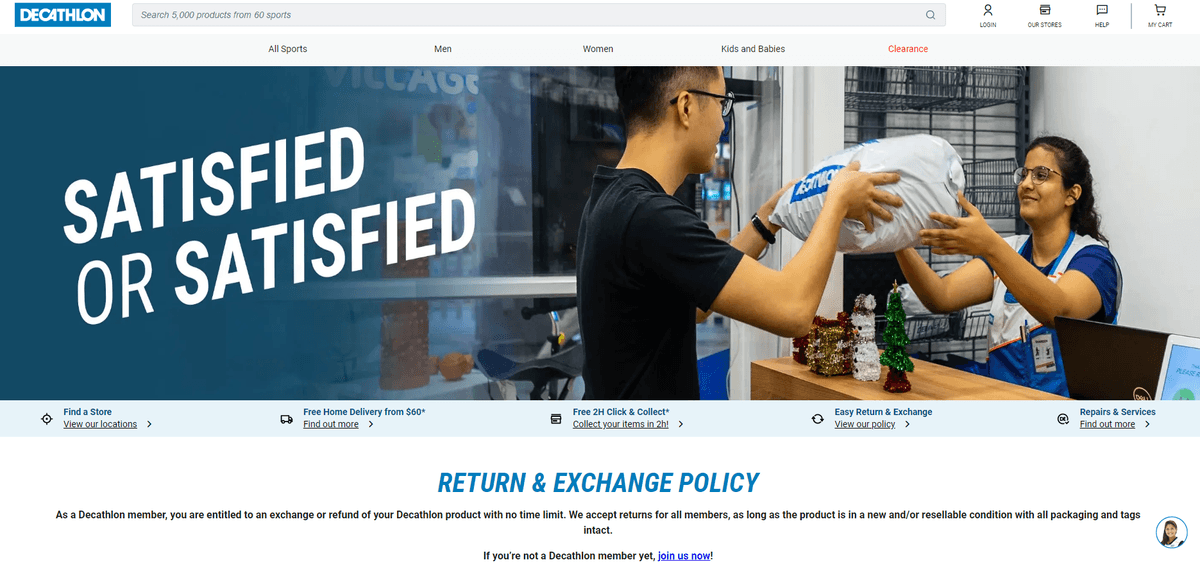 3. Include a clean About us page
An About us page enables you to communicate to your customers who you are and what you stand for. Spend some time crafting the About us page and include information about your company's mission, values, story, physical location, and the key people behind the brand. This can encourage visitors to stay longer on your site and build credibility. Make sure to include your About us page in your main site navigator and footer. If you want to see a well-crafted example, take a look at the excerpt of the About us page from By Invite Only.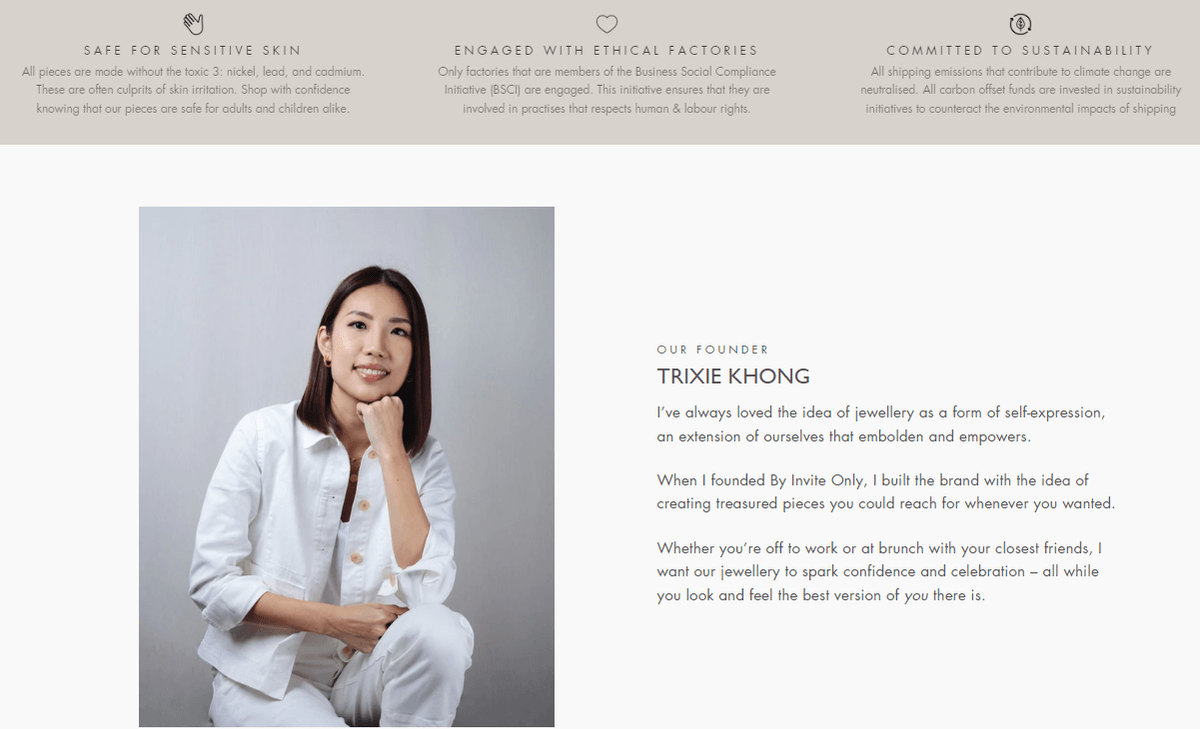 4. Show off the products
Shoppers rely on engaging visuals to help drive their purchase decisions. No matter what you're selling, beautiful and professional photos help build trust and credibility. Since shoppers don't have the option to experience the products in person, it's important to draw them in with great product images. According to Splento, 5% of online shoppers heavily rely on a product photo to make a decision, and good product photography can increase your conversion rate by 30%. This is because most people are visual learners meaning that visual information, i.e. photos, will influence their minds more than written words.
Even if you don't have the resources to set up professional photoshoots to showcase your products, ensure that product photos are well-lit, clear, and crisp. It is also essential that photos are consistent and in line with your brand. Take a look at the online store of Synced: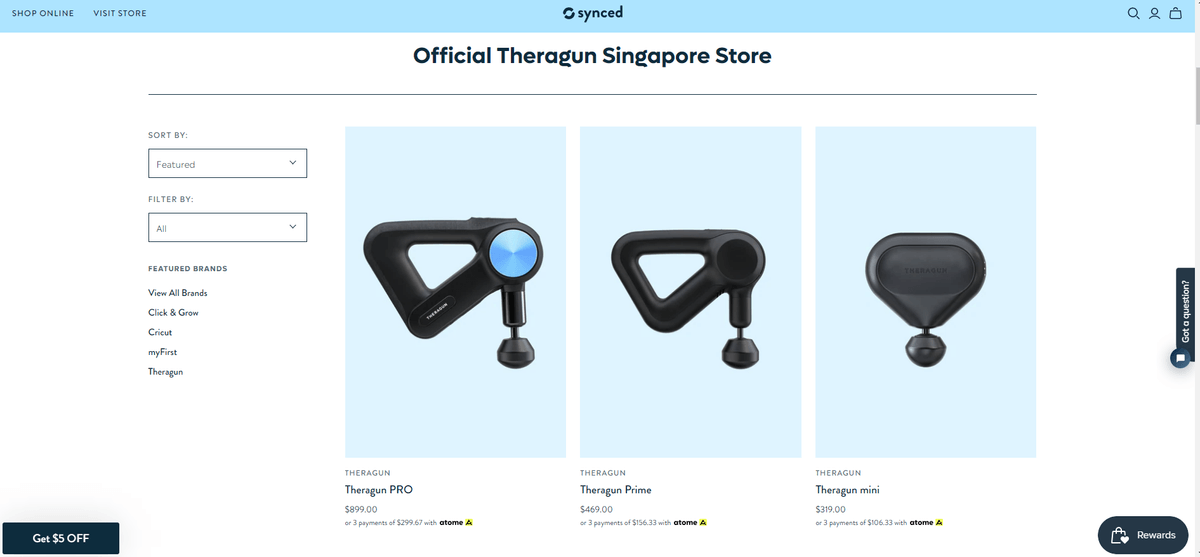 5. Include customer reviews across your store
Reviews by customers can be effective trust signals for your store. Displaying them across your store is a great way to say: "Don't take our word for it but see what other customers think." This allows visitors to verify your products themselves – and even learn about how other customers experienced your product. Online stores commonly include customer reviews on:
Homepage
Product pages
Product category pages
Checkout cart
Product pages are one of the best places to include customer reviews, because that's where people usually look for additional information on the product before adding it to the cart. Take a look at how Dyson embedded reviews on their product page and product category page: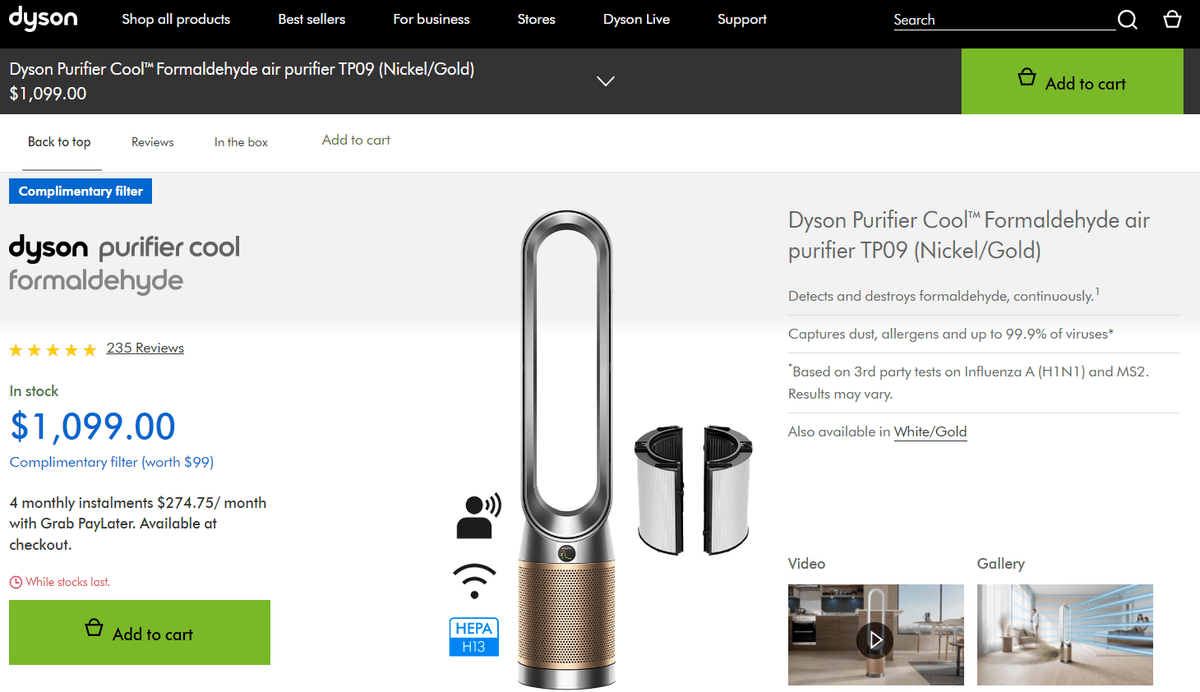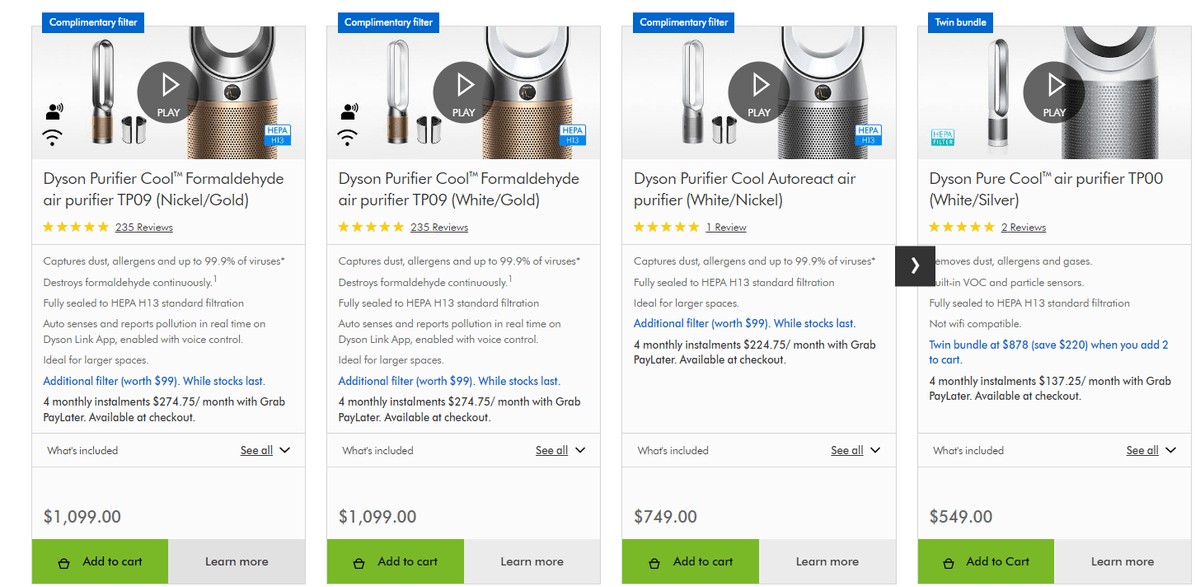 6. Make use of trust badges
One in three people in Southeast Asia has experienced some form of online fraud amid the recent boom in online shopping. This further increases anxieties about sharing personal data and payment information with e-commerce businesses and makes shoppers more reluctant to purchase online. They won't hesitate to leave your store if they don't fully trust it.
Increase their trust by posting trust badges in the checkout cart, which has the potential to increase your conversion rates considerably. Behind these trust badges are often (not always) security features that help keep information safe. The Secure Sockets Layer (SSL) is part of a complex system that will encrypt certain information sent over the internet. Trust badges are issued when these secure systems are implemented.
It is recommended not to showcase too many trust badges. Limit trust badges to no more than three, and make sure that each one of them is sending just one relevant signal. For example, you may want to include one badge that addresses identity theft, one that addresses payment security, and one that addresses your return and exchange policy. Where possible, conduct A/B tests to ensure the optimal placement of the badges for increased conversion rates.
Here are some commonly used trust badges featured by CXL: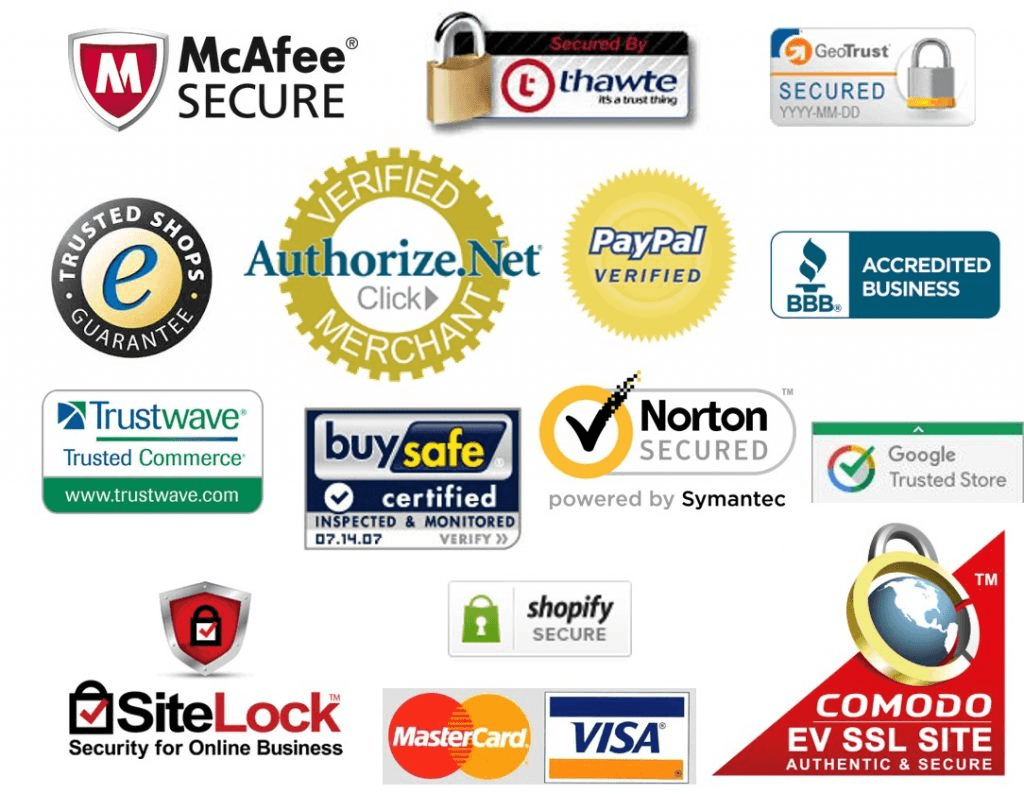 7. Offer embedded product protection
When shopping online, it is not possible to examine the product in person before making a purchase. A consumer can't take the product in his hand to get a feel for the quality. According to a recent study, product quality is the main factor that worries consumers when making an online purchase.
In addition to a manufacturer warranty and a strong return policy, a comprehensive product protection plan reassures customers that a merchant is willing to stand behind the quality of its products and provides them with the needed peace of mind. Assurant found that offering a product protection plan increases a consumer's intent to buy by about 25%. This increased trust can create a loyal customer who knows you made it a priority to be there for them when they need you most – if something goes wrong.
Anycover offers e-commerce stores a simple way to offer protection plans that, like the trust badges discussed earlier, help to build trust with consumers.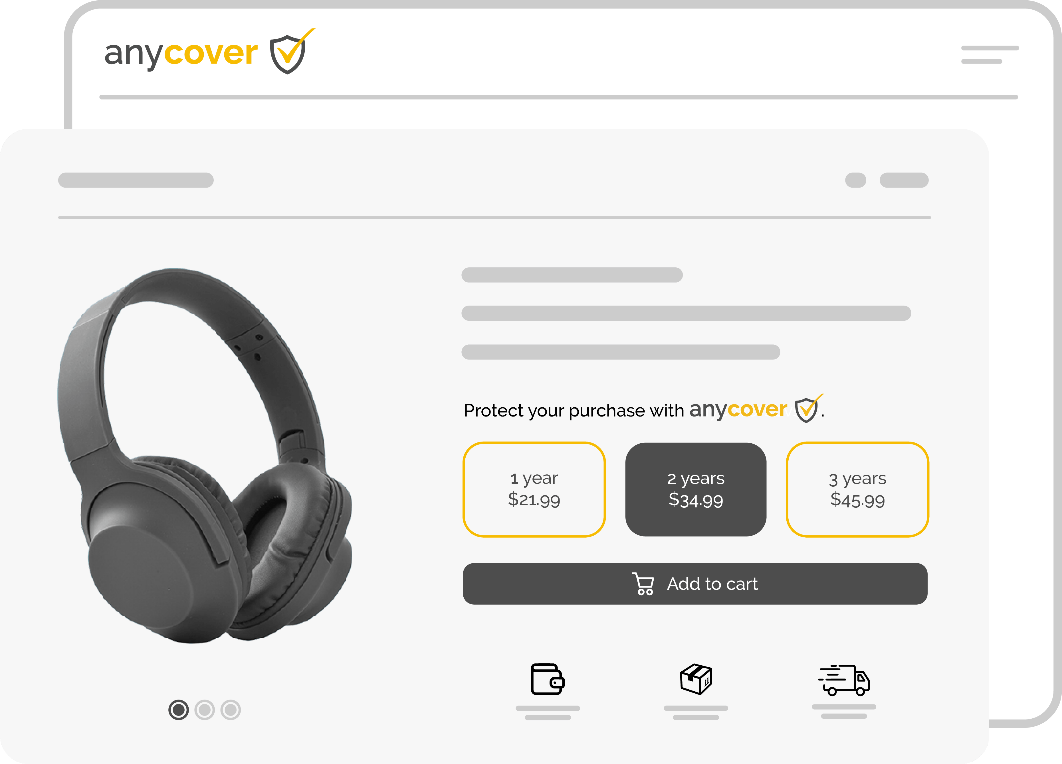 To learn more about Anycover product protection and how it can help your eCommerce store scale to new heights, click here to book a demo
About Anycover
anycover is a Singapore-based insurtech startup that enables online merchants to launch and manage their own extended warranty program through a plug-and-play API solution without having to build it from scratch. It has partnered with leading insurers to facilitate and streamline the underwriting process for merchants.

Launched in 2021, anycover reinvents the traditional extended warranty industry by eliminating many of the issues customers face with legacy providers, boosting customer confidence and retention. anycover's solution is available for online merchants and retailers across multiple industries such as electronics, appliances, furniture, sports & fitness, jewellery, bags & luggage, optics and more.